SV-X Neobeam
NeoBeam is a highly portable, self-localizing, and long-endurance RF-based perimeter intrusion detection system.
Contact Sales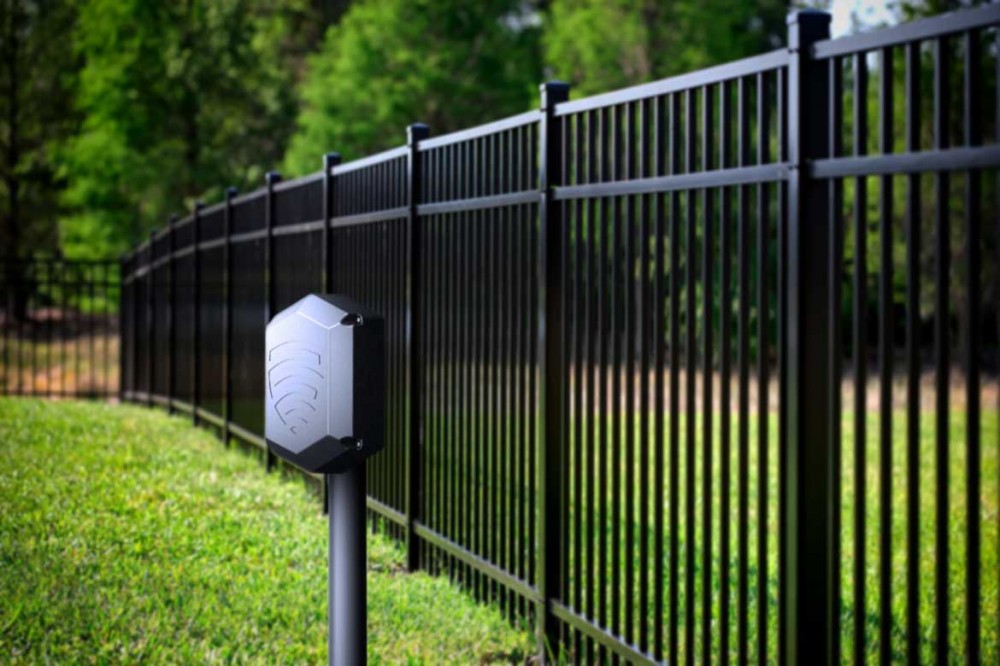 NeoBeam is a highly portable, self-localizing, and long-endurance RF-based perimeter intrusion detection system.
The NeoBeam is developed to detect people and vehicles through a detection line.
The NeoBeam kit consists of a Transmitter and a Receiver. Both units are battery operated. The Receiver unit is equipped with a wireless module to transmit alarm signals.
NeoBeam is used as a highly effective alternative for fixed wired perimeter solutions for military, industrial, nuclear and civil installations. The solution can be used as standalone or as part of an existing system.
NeoBeam supports fast deployments in any environment without the need of any pre-existing infrastructure.
NeoBeam Principle of Operation:
Mesh of sensors form invisible RF-based trip wires
Alerts are triggered when intruders cross the detection zone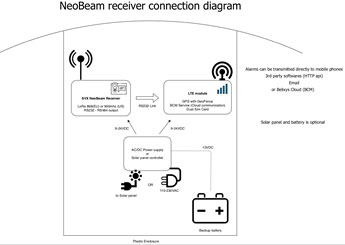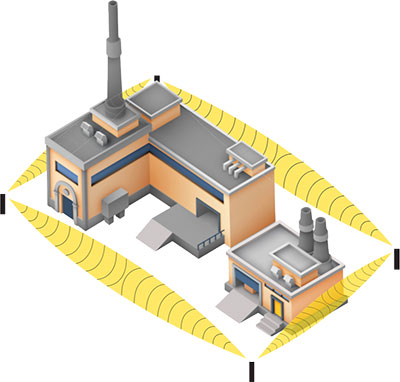 Features and Options:
Protection up to 75m of range
BIM (Belixys Intelligent Modulation) technology NeoBeam kit
Up to 2 year battery life
Wireless solution, no installation costs
Wireless alarm transmission up to 10km (LoRa technology)
Sensing Modalities : RF trip wire, Shock
Integrated shock and tamper alarms
Mounting options : Tripod, Spike, Wall and Tree mount
Lightweight, easy re-deployable
Encrypted communication and resistant to jamming attacks and spoofing attacks
Designed for indoor and outdoor environments with foliage and other obstructions
Built for extreme weather & temperature conditions
Optimized for long-term, unattended operations
Fully interoperable with existing security networks
Operating temperature : -40 to 80°C
Enclosure : IP65, Paintable (custom color)
12cm high x 12cm large x 7cm width
Weight 300gr per module
Applications:
Tactical Deployments
Border Protection
Permanent Security Applications
Infrastructure and Asset Protection
Construction Security
Long-Term Operations
Tactical Deployments
Large Scale Installations
Multi-Site Enterprise Monitoring
Private Property Protection
How it works:
This innovative system of networked, unattended sensors serves as a "wireless trip wire" for early warning against intrusions. A NeoBeam system requires no infrastructure and can be deployed in minutes. Cameras or other sensors can crossed by alerts issued by NeoBeam to provide automated visual verification of the perimeter breach. NeoBeam provides intrusion detection on any terrain, non-line of sight locations, and can operate through walls, foliage, and other obstructions.
Originally developed for AirPort applications, NeoBeam provides unattended and reliable protection for commercial, government, and institutional infrastructure. With as few as two to as many as fifty NeoBeam devices, users can secure small areas or vast expanses without the need for dedicated security personnel nor surveillance systems. NeoBeam provides automated alerts of perimeter intrusions. Captured images are sent to a command center, remote monitoring station, or mobile device.
NeoBeam is fully interoperable with a wide range of IP surveillance systems and can also be used to trigger existing systems to maximize video monitoring effectiveness. Images and alert data are archived within the NeoBeam command center for analysis and potential prosecution. Never has physical security been so easy and convenient.
Electronics
-20 to +55°C operation
Weather Sealed
Up to 2 years Battery Life
Wireless Long Range Alarm Transmission (LoRa)